Eco Protect Series of glasses provide superior security for your home. Although, the Eco Star Eco Quiet series also provide security but Eco Protect is for enhanced threat perception. Stronger laminates with special inter-layer is able to protect you from virtually any attack. Small fire arm protection is also available.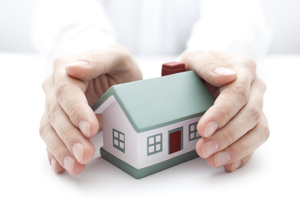 Security & Safety
Resists intrusion because the inter layer continues to safeguard the building even after the glass itself is broken. doesn't shatter like ordinary glass.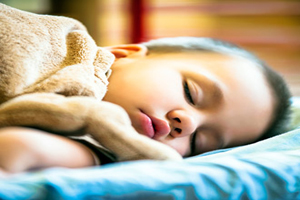 Acoustics/ Sound Control
It is an excellent barrier to noise. The sheer damping performance of the plastic inter layer make the glass an effective sound control product.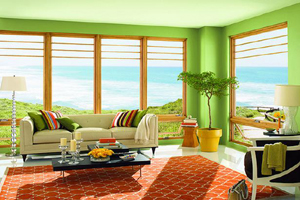 UV Control
Screens out 99% of the sun's damaging rays, protecting interior furnishing, displays or merchandise from fading effects of UV radiation.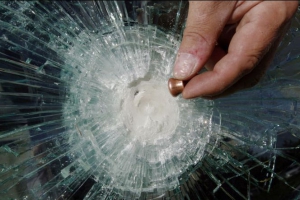 Small Fire Arms Protection
Specially formulated and tested to protect people against small fire arms.
Eco protect

Eco Protect is an optimal solution which helps in protecting your home from break-ins.
Eco protect plus

Eco Protect Plus is best solution for high security and safety needs. It offers more tear strength and upto 100 times the rigidity of conventional PVB interlayer.
Eco protect pro

Eco Protect Pro are being used wherever you need a material that can make a difference in glass performance. It can offer improved ballistic protection or thinner constructions than are now possible with conventional laminated glass.
Eco Protect Bulletproof

Eco Protect Bulletproof manufactured to successfully resist the penetration of a bullet.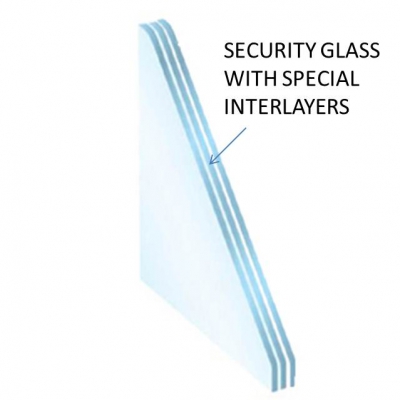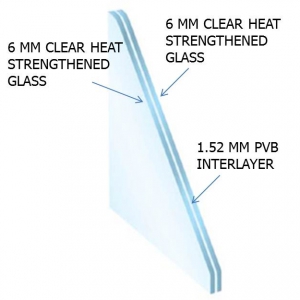 Eco Protect
13.52 MM Security Glass with PVB(Polyvinel butyral) interlayer.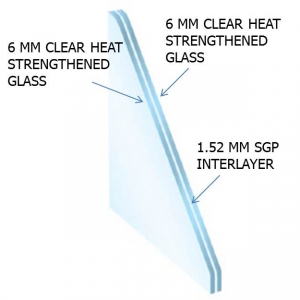 Eco Protect Plus
13.52 MM Security Glass with SGP(Sentry Glass) interlayer.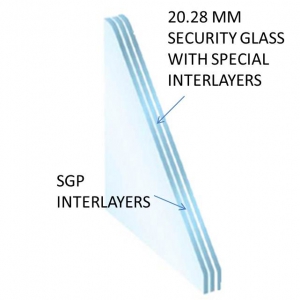 Eco Protect Pro
20.28 MM Security Glass with SGP(Sentry Glass) interlayer.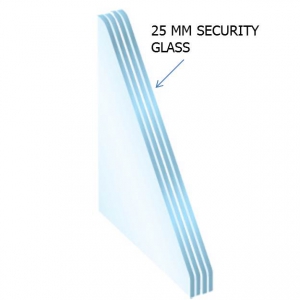 Eco Protect Bulletproof
25 MM Security Glass with special  interlayers.
| Product | Thickness(MM) | Strength | Safety | Security | Sound | Sound Rating |
| --- | --- | --- | --- | --- | --- | --- |
| 6 MM Glass | 6 | 7 | 7 | 1 | STC26 | 1 |
| Eco Protect | 13.52 | 8 | 10 | 7 | STC37 | 7 |
| Eco Protect Plus | 13.52 | 9 | 10 | 9 | STC37 | 7 |
| Eco Protect Pro | 20.28 | 7 | 10 | 10 | STC41 | 9 |
| Eco Protect Bulletproof | 25 | 7 | 10 | 10 | STC41 | 9 |
What is Laminated Glass ?
Laminated glass is two or more panes of glass with one or more layers of polyvinyl butyral (PVB) sandwiched between them and treated. The glass panes can be basic float glass or tempered or heat strengthened panel. If the glass is broken, fragments tend to adhere to the PVB inter layer thereby reducing the risk injury from falling glass and helping to resist further impact or weather damage. It is most suitable wherever safety, security, noise control or UV control is a requirement. The single largest use of laminated glass is in automobile windscreens. Glass can also be laminated with special PVB like – Coloured PVB in transparent, translucent and opaque, Acoustic PVB for improved acoustic performance and Sentry Glass for better structural strength.
What is Interlayer ?
Toggle content goes here, click edit button to change this text.
What is Pvb Interlayer ?
Polyvinyl butyral (or PVB) is a resin usually used for applications that require strong binding, optical clarity, adhesion to many surfaces, toughness and flexibility.