The Insulated glass is a prefabricated unit made of two or more glass panes, which have been separated by an air gap and edge-sealed together. This edge seal not only binds the individual sheets of glass together to maintain the mechanical strength of the joint but also protects the space between the glass from outside influences. The air enclosed between the two glass panes is dried with a desiccant. Because of the low heat conductivity of the enclosed dry air between the glass panes, heat transmission through the window is drastically reduced. Tempered, Laminated, reflective, low-E, tinted or clear glass can be used.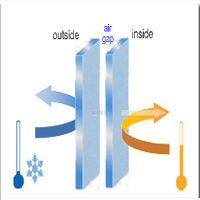 Insulation
Saves on heating and cooling by reducing air to air heat transfer.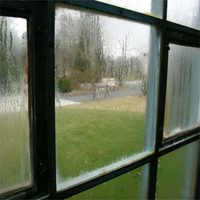 Prevention of Dew Condensation
There is no dew formation on the glass surface permitting a clear view even in the most humid conditions.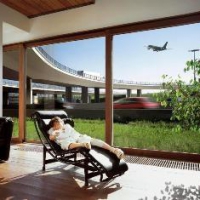 Retards Sound Transmission
Using one of the panes as laminated glass will drastically reduce sound transmission.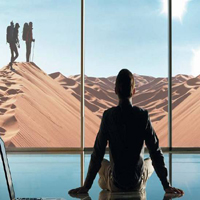 Pleasant Room Temperature
It offers increased personal comfort even when seated next to the glazing as the temperature of the inner pane is close to room temperature maintained.
Strength
DGU glass will marginally increase the overall strength against wind load pressure.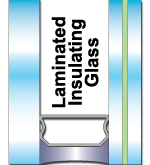 Multiple Glass Combinations
There are one or more panes of glass should be laminated or toughened with in the insulated glass.
Maximum size 2500 mm X 3660 mm. (Please check with us for larger sizes)
Filled with dry air (conventional) or Argon (for better thermal) or SF6 (better acoustical).
Combinations vary and may use clear, tinted, ceramic decorated or high performance glass in annealed, heat strengthened or laminated form.
Low-E is available on the #2 or #3 surface of an insulating glass unit.
Step glass is available.
Shaped DGU's also available.
Bent DGU is also available on special request. Check for limitations.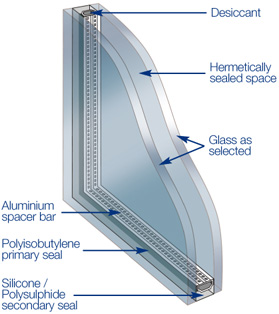 First in Architectural Insulated  Glass in India with over 30 years of experience in glass processing.Processing in Greater Noida and Mumbai.
Best quality glass exported worldwide including Europe.
State of the art machinery from Bystronic Germany.
Single joint spacer used with automatic bending for increased accuracy and 100% reliability.
Only Dow Corning quality bond certified insulation in India
Automatic sealing robot for fast productivity.
Using European products only NO Chinese materials like silicon, spacers etc are used.

HOW INSULATED GLASS IS MADE ?
The aluminum spacers are cut to size, filled with desiccant and joined at the edges in the form of a frame.
Primary sealant butyl (Polyisobutalyne) is applied to the edges and made ready to be incorporated in the assembly. Glasses are washed and dried on line and conveyed to the assembly for last inspection and assembled with the aluminum spacer in which primary sealant has already been applied.
The assembly is then pressed & conveyed to the robotic applicator or to application table for applying the secondary sealant which is two part structural silicone. Suitable time for curing is allowed before final cleaning and transportation.
GSC also offers gas filled units.
WHAT IS THE IMPORTANCE OF SILICONE IN INSULATED GLASS UNIT ?
Insulated Glass Unit(IGU) made of two or more glass, which have separated by an air gap and edge-sealed together with the use of silicone.
The edge seal not only binds the individual sheets of glass together to maintain the mechanical strength of the joint but also protects the space between the glass from outside influences.
wHAT IS THE ROLE OF DESICcANT IN INSULATED GLASS UNIT(IGU) ?
Desiccant is used to absorb the moisture coming through the seal.
IS SPACER ALSO AVAILABLE IN VARIOUS COLORS ?
Generally silver and black colored spacers are available and widely used, apart from these two there are other color options but they are made to order.
WHY SINGLE JOINT SPACER IS BETTER ?
A normal spacer is connected at four joint with corner keys this gives the possibility of four failure points. Using a single joint bent spacer reduces the risk element significantly.
HOW MUCH SHOULD THE BITE OF SILICONE IN INSULATED GLASS ?
As a standard 4mm to 6mm silicone bite is used for window applications.
For structural application this has to be calculated as:-
Minimum Sealant Depth= Glass Short Span(mm) X Total Dynamic Load(kPa) X 0.5T / 140kPa
Where,
kPa – Kilo-Pascals.
MM – Millimeter
T- Thickness
References: Page 88, Architectural Glass Guide, Federation of  Safety Glass.
CAN ONE OR MORE PANES OF INSULATED GLASS BE LAMINATED OR TOUGHENED ?
Yes, one or more panes of Insulated Glass be Laminated or Toughened
WHAT IS THE PURPOSE OF INSULATED GLASS ?
Insulated Glass mainly used for:-
Insulation: Saves on heating and cooling, by air to air heat transfer.
Prevention of Dew Condensation: Pleasant view through in rainy or high humidity climates.
Versatility: Enables to use larger glazed area for greater see through and natural light.
Retards Sound Transmission
Pleasant Room Temperature
Strength